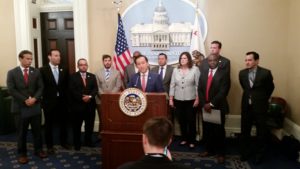 More than a dozen members of the Democratic Assembly Caucus today unveiled a plan that would deliver relief to California families struggling to keep up with skyrocketing rents.
In a letter to Assembly Budget Subcommittee 4 Chair Asm. Adrin Nazarian
, the caucus members, led by Housing Committee Chair Asm. David Chiu (D-San Francisco) and Asm. Tony Thurmond (D-Richmond), proposed more than $1.3 billion to stabilize families after median rents have soared by 20 percent since 2008, while median incomes have dropped by 8 percent. "Californians cannot wait," they wrote.  "Immediate action is needed…in this budget year to address our housing crisis."
The California Housing Consortium released the following statement from Executive Director Ray Pearl in support of a proposal released today by 12 Democratic Assemblymembers that would deliver relief to Californians struggling to keep up with skyrocketing rents:
"CHC wholeheartedly supports the proposal introduced today by Assemblymembers Chiu, Thurmond and their colleagues with support from Speaker Rendon. This plan recognizes that our state's housing affordability crisis is hurting California businesses and sending California jobs out of state. California's affordable home developers are ready to deploy this much-needed investment to put affordable homes within reach of the state's neediest individuals and families, create jobs, and strengthen communities."
CHC staff has been working with the Assembly staff for several months to develop this ambitious proposal and to educate legislators on the value of the state funding our members successfully deploy through the Low Income Housing Tax Credit, Multifamily Housing Program, and other programs.