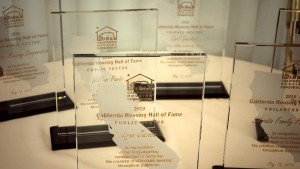 The affordable housing sector in California has accomplished a lot over the past half-century.  Noted for the sense of mission, for talent, experience, and effectiveness, the affordable housing sector is defined by its broad range of participants: from both private and non-profit developers, lenders and investors, to visionary public sector leaders and philanthropic foundations.  In calling attention to the heroes among us in the affordable housing effort, it is the distinct privilege of the California Housing Consortium to inaugurate those who have made a profound impact in the housing sector into the California Housing Hall of Fame. In order to be inducted into the Housing Hall of Fame, an individual or organization must demonstrate a seminal or substantial contribution toward advancing the cause of affordable housing in California.
The Board of Directors of the California Housing Consortium has conferred to recognize heroes in the field by gauging leadership characteristics such as innovation, effectiveness, inclusiveness, impact, tenure, collaborative spirit, and inspirational records of service across (5) distinct categories:
Lifetime Achievement
Public Sector
Private Sector
Non-Profit Sector
Community Development Lending/Philanthropic Sector
Dianne Spaulding Local Leadership
____________
This award recognizes a dedicated individual who over many years has shown a continuing commitment to affordable housing through their involvement in financing, development, investment, management, advocacy, or the legislative process that has contributed to the greater understanding and advancement of affordable housing throughout California.
Arnold Sternberg
Senator Alan Cranston
Don Terner
Janet Falk
Fran Wagstaff
John Stewart
Theresa Parker
Beverly Fretz-Brown
Maureen Higgins
Christine Minnehan
Margaret Schrand
Gary Squier
Will Cooper, Snr
Jeanne Peterson
Peter Carey
Hunter Johnson
____________
Honorary
These are two leaders who have had a tremendous impact on affordable housing in California. Both served with distinction as Presidents Pro Tem of the California State Senate:
The Honorable David Roberti
The Honorable John Burton
The following (4) elected state leaders were instrumental in the bi-partisan effort to forge, promote, and pass PROPOSITION 1C in 2006, the $2.85 billion housing bond to sustain and expand existing housing programs for shelter, supportive service rental housing, and homeownership opportunities:
Gov. Arnold Schwarzenegger
Senate President Don Perata
Assembly Speaker Fabian Nunez
Sen. Min. Leader Dick Ackerman
Individual
Phil Angelides – California State Treasurer 1998-2006
Lynn Jacobs – California Department of Housing & Community Development
Betsy Morris – San Diego Housing Commission
Judy Nevis – CA Dept. of Housing and Community Development
Bill Pavao – California Tax Credit Allocation Committee
Alex Sanchez – Santa Clara Housing Authority (and CHC Founder)
Leslye Corsiglia – City of San Jose
Cathy Creswell – California Department of Housing & Community Development
Mark DeSaulnier – California State Senator
Toni Atkins – California State Assemblymember
Bill Huang, City of Pasadena
Richard Gentry, San Diego Housing Commission
California Emerging Technology Fund
____________
An industry visionary who not only understands the complexity of affordable housing, but has taken a leadership role in advancing the development, financing, or investing in affordable housing projects that add value to local communities and enhance the lives of the people who become affordable housing residents.
Keeley Kirkendall – PNC ARCS Commercial Mortgage
Nancy McLaughlin – Managing Director, National Lending & Housing Programs, Low Income Investment Fund
AF Evans Company, Inc
AMCAL Multi-Housing
The Related Companies of California
Union Bank of California
Silicon Valley Leadership Group
Natalie Gubb – Gubb & Barshay
Jim Silverwood – Affirmed Housing Group
Patrick Sabelhaus
Lucy Dunn – Orange County Business Council
Geoff Brown – USA Properties Fund Inc.
Thomas Safran – Thomas Safran & Associates
____________
Were it not for the exemplary role of the non-profit sector over the past several decades, the affordable housing mission in California would be woefully under- served. Indeed, for over 30 years, the following non-profit housing development organizations have been making a critical positive impact in the lives of low-income households in California.
Individuals
Carol Galante-President, BRIDGE Housing Corporation
G. Allan Kingston -Vice Chairman of the Board, National Community Renaissance Corporation
Dianne Spaulding – Executive Director, Non Profit Housing Association of Northern California
Joel Rubenzahl, Community Economics
Bernard Deasy, Merritt Community Capital Corporation
Organizations
A Community of Friends
Burbank Housing
Cabrillo Economic Development Corporation
California Housing Partnership Corporation
Century Housing
Christian Church Homes
Community Housing Improvement Program
Community HousingWorks
EAH
East Bay Asian Local Development Corporation
Eden Housing
Human Investment Project
Jamboree Housing Corporation
LA Community Design Center
LifeSTEPS
Mercy Housing
Mid-Peninsula Housing Coalition
National Farm Workers Service Center
Oakland Community Housing, Inc.
Orange County Community Housing Corp.
Palo Alto Housing Corporation
People's Self-Help Housing
Rural Community Housing Development Corporation
Satelitte Housing Inc.
Self-Help Enterprises
Self-Help Home Improvement Project
Wakeland Housing & Community Development Corporation
____________
Community Development Lending/Philanthropic Sector
An individual, foundation, or charitable giving arm of a corporation or bank that has shown a continuing commitment to affordable housing through charitable contributions, program related investments, or ongoing efforts to revitalize neighborhoods through economic and housing equity investments.
Alan Stein – JMP Securities
Federal Home Loan Bank of San Francisco
S.H. Cowell Foundation
California Community Foundation
California Community Reinvestment Corporation
Sobrato Family Foundation
The San Francisco Foundation
Enterprise Community Partners
Golden State Acquisition Fund
The Bank of America Merrill Lynch Low-Income Housing Challenge
____________
The Dianne Spaulding Local Leadership Award

A regional champion whose work in the affordable housing industry has greatly impacted their local area. This award, created in 2014, was named after the former Executive Director of the Non-Profit Housing Association of Northern California who, through her 30 years of leadership, elevated the importance of affordable housing to new levels in Northern California.
Dianne Spaulding – NPH
Shiloh Ballard
Kevin Zwick – Housing Trust Silicon Valley
Mark Trotz – Housing for Health