Tim O'Connell, our beloved friend and colleague, passed away on July 4. Tim was a shining light, a great storyteller, and a tireless advocate seeking social justice for the less fortunate. While we mourn his loss, we are so very thankful that we had the opportunity to know and work with him for close to 19 years.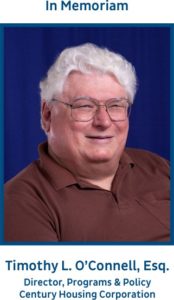 Tim's service at Century began in the spring of 1999, and as Director, Policy and Advocacy, he was responsible for representing the interests of Century, its affiliates, partners and clients at the federal, state and local levels, including matters relating to funding, regulation, and oversight. Tim was Century's primary liaison with elected representatives, legislative staff, and administrative officials in his on-going effort to assure that affordable housing and related issues received the necessary legislative and financial support.
In addition to his service with Century, Tim served on various boards and committees dedicated to increasing the supply of critically needed affordable housing throughout the State of California, including the San Diego Housing Foundation, Housing California, Los Angeles Business Council, California Housing Consortium, the California Association of Local Housing Finance Agencies, and LA Family Housing.
Before his arrival at Century, Tim served as Assistant to the Chief Executive Officer of the San Diego Housing Commission, the City's public housing agency. In that position, he provided policy support to the CEO and Board of Commissioners, as well as serving as primary liaison between that agency and the Mayor and City Council. Tim also served Maureen O'Connor during her term as Mayor of the City of San Diego as Director of Program Development for Growth & Development.
Tim received his Juris Doctor degree from the University of San Diego School of Law, attended the Graduate Program in City Planning at San Diego State University, and graduated from the University of California, Santa Barbara, where he earned a bachelor degree in geography and economics.
Tim was a longtime advocate of social justice and committed his life in service to others. With his passing, the affordable housing community has lost one of its strongest and most effective voices.
Tim had many interests and causes that he supported throughout his life. Two of his favorites were the public library system (where he was one of their most frequent borrowers) and the educational and social needs of underprivileged children. In recognition of Tim's deep fondness for these causes, the family suggests that any tributes in Tim's memory be made to either of the following:
The Library Foundation of Los Angeles, www.lfla.org
630 West 5th Street
Los Angeles, CA 90071
Oasis Community Center, www.centuryvillages.org
2001 River Avenue
Long Beach, CA 90810